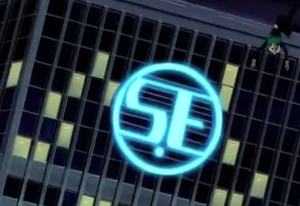 Tony Stark's company Stark Enterprise is given a brief cameo during the fight between Rogue and Magneto in On Angel's Wings while in New York City.
Tony Stark in a multimillionaire who in Marvel Comics' is also Iron Man.
Notes
In The Comics the image inducer was created by Iron Man at Stark Enterprise and given to Nightcrawler. It looked like a cell phone instead of a watch.
Ad blocker interference detected!
Wikia is a free-to-use site that makes money from advertising. We have a modified experience for viewers using ad blockers

Wikia is not accessible if you've made further modifications. Remove the custom ad blocker rule(s) and the page will load as expected.