Wolverine and the X-Men

Director:
Nicholas Filippi


Steven E. Gordon
Doug Murphy
Boyd Kirkland


Composer:
Dean Grinsfelder
Running Time:
23 min
More Information
X-Men Movies
← Previous
Next →

–

–

Wolverine and the X-Men came out 23 January 2009 in the USA, and in Canada.
Marvel Shows
Plot
Trivia
Quotes
Cast
Steve Blum ... Wolverine
Jim Ward ... Charles Xavier
Nolan North ... Cyclops
Fred Tatasciore ... Beast
Kari Wahlgren ... Emma Frost
Danielle Judovits ... Shadowcat
Liam O'Brien ... Nightcrawler
Tom Kane ... Magneto
Gwendoline Yeo ... Domino
Yuri Lowenthal ... Iceman
Roger Craig Smith ... Forge
Susan Dalian ... Storm
Mark Hildreth ... Quicksilver
Jennifer Hale ... Jean Grey
Kate Higgins ... Scarlet Witch
Kieren van den Blink ... Rogue
Richard Doyle ... Senator Robert Kelly
Tara Strong ... Marrow
Michael Ironside ... Colonel Moss
Kevin Michael Richardson ... Bishop
Phil LaMarr ... Bolivar Trask
Stephen Stanton ... Blob
Tamara Bernier ... Mystique
A.J. Buckley ... Mortimer Toynbee
Grey Griffin ... Rita Waywor
James Patrick Stuart ... Avalanche
Liza Del Mundo ... Lorna Dane
Graham McTavish ... Sebastian Shaw
Clancy Brown ... Mister Sinister
Chris Edgerly ... Agent Haskett
Crispin Freeman ... Christoph Nord
Charles Adler ... Mojo
Peter Lurie ... Sabretooth
André Sogliuzzo ... Arclight
Dominic Janes ... Sammy Paré
Corey Burton ... John Grey
April Stewart ... Selene
Alex Désert ... Nick Fury
Gabriel Mann ... The Hulk
Vanessa Marshall ... Vertigo
Phil Morris ... Colossus
Crystal Scales ... Boom Boom

Videos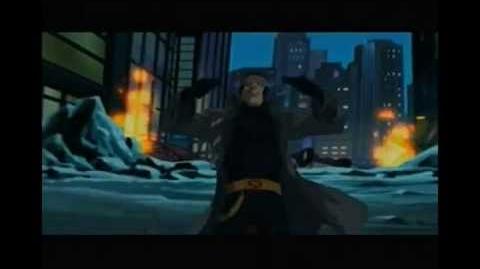 Ad blocker interference detected!
Wikia is a free-to-use site that makes money from advertising. We have a modified experience for viewers using ad blockers

Wikia is not accessible if you've made further modifications. Remove the custom ad blocker rule(s) and the page will load as expected.